Mission
Fund For Wisconsin Scholars [FFWS] provides need-based grants to graduates of Wisconsin public high schools attending University of Wisconsin four year colleges and universities to support their access to and completion of college. By providing need-based grants, FFWS helps reduce the financial barriers of attending college and lighten the debt that many Wisconsin students incur.
What is FFWS?
FFWS is a private, not for profit charitable foundation established in 2007 by a gift of $175 million from John and Tashia Morgridge. The Foundation is built on the belief that every person has equal value and the potential to create one's own future and the future of our society; and that the attainment of higher education leads to improved physical and emotional health, increased moral and ethical thinking, and increased civic involvement. FFWS also believes that increasing the number of Wisconsin adults who hold a bachelor degree will improve the quality of life for all Wisconsin residents by creating more well-paying jobs, increasing learning opportunities, and providing greater education options for future students. By helping to assure a highly educated workforce, FFWS helps create the economic viability necessary for meeting the challenges that face us today and tomorrow. Funding is distributed through financial aid offices in the University of Wisconsin system. When higher education is more affordable, it helps decrease the financial stress of college expenses and makes graduating from college more attainable.
Why We Do This
From John and Tashia Morgridge
Our mission is to help more students in Wisconsin graduate from college. Over 20 years ago we tore out a newspaper article about a scholarship program for low-income students. The article sat in a pile on Tashia's desk, yellowing with age, until we realized in 2007 that we might be able to create a similar program in Wisconsin.
After consulting with various individuals and organizations we decided to select recipients from a pool of Pell Grant eligible students. The students are randomly selected annually from roughly five thousand eligible Wisconsin high school graduates. Once selected, the students receive a scholarship for up to five years, provided they continue as full time students and make adequate academic progress.
Our hope is to increase the number of students who complete a bachelor's degree and without overwhelming debt. With reduced debt, students might be able to work fewer hours per week, have more time to study and will be able to participate in campus clubs and activities. Some students might also find it possible to take a semester abroad.
In the 1950's when we were both at the University of Wisconsin-Madison, it was possible to work during the summer and have a part-time job during the academic year and cover all your expenses. John had a variety of summer jobs including working on the cleanup crew in a pea cannery, tunnel mucking in a storm sewer under the Milwaukee River, moving rock in a quarry, and highway construction. Really hard work, but he graduated debt free.
We visit several campuses every year to meet with the scholars and are touched by their stories and appreciate their hugs. Many students come from families unfamiliar with the demands of college or may come from school districts that did not totally prepare them for the rigors of college classes. Although college may be more challenging for these students, determination and help from other students and support staff allows them to succeed.
FFWS has a peer mentor program on each campus using junior and senior FFWS students as mentors for new scholars.  The peer mentor program aims to help FFWS freshmen and transfer students feel welcome, find community on campus, and ultimately thrive on campus.
We know we can't meet the needs of every student, but the Fund For Wisconsin Scholars lets students know that someone cares about them and that there is an opportunity and support for them as they pursue a college degree. Our wish for the students is that a college education will enhance their lives and give them greater life long options and opportunities.
Our Board
John P. Morgridge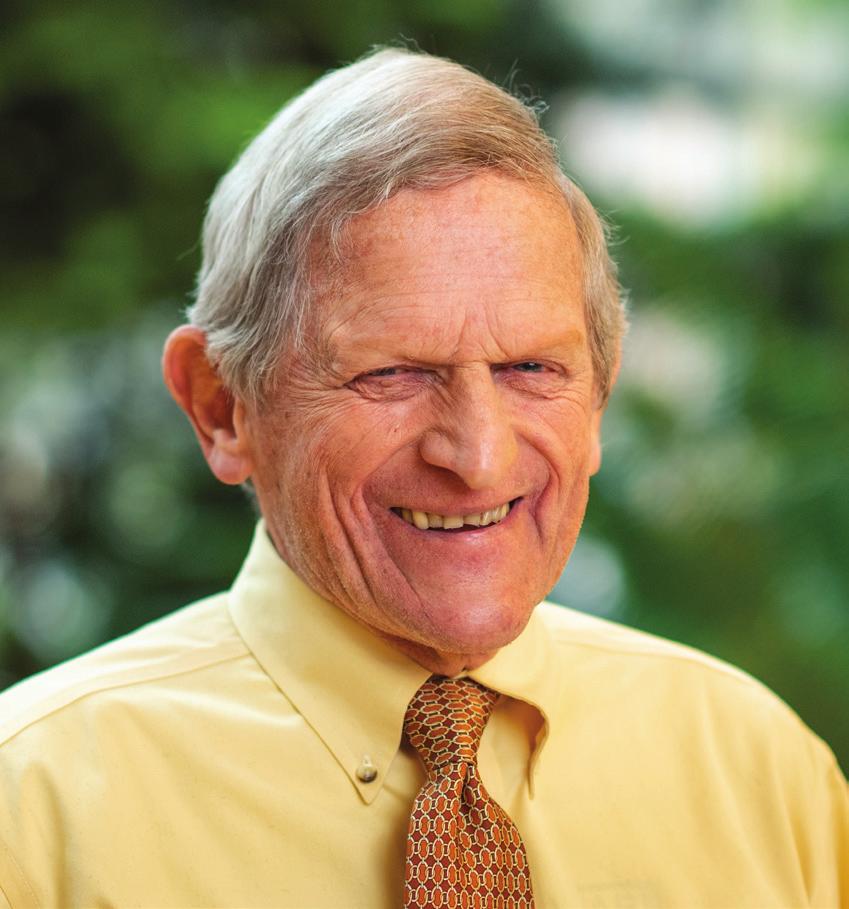 John P. Morgridge and his wife, Tashia F. Morgridge, established the Fund for Wisconsin Scholars (FFWS) in December 2007 with a contribution of 6 million shares of Cisco stock to help make higher education accessible to talented public school graduates in the state. John is chair of the FFWS Board of Directors.
John has had a lengthy career as a business executive, educator and philanthropist.
He is currently chair emeritus of Cisco Systems, a multinational corporation that designs and sells networking and communications technology and services. John joined Cisco in 1988 as President and CEO. In 1990, he took Cisco public; in 1995, he was appointed chair; and in November 2006, he became chair emeritus. During his tenure, Cisco became the world leader in networking for the Internet.
Throughout their lives, John and Tashia has made access to education one of their top priorities. They established the Morgridge Center for Public Service on the University of Wisconsin-Madison campus, gave to the UW-Madison School of Education to modernize and expand the education building, and gave to help build the Discovery Institute and launch the Morgridge Institute for Research. They provided matching funds to help establish some 134 new faculty chairs to retain and attract top faculty.
John is past chair of The Nature Conservancy and serves on the boards of the Cisco Foundation, the Morgridge Institute for Research, the TOSA Foundation, and the Wisconsin Alumni Research Foundation (WARF) and the UW-Madison Chancellor's Advisory Board.. John also taught at Stanford University's Graduate School of Business and serves on its School of Business Advisory Council. He served as co-director of the Stanford Leadership Academy, a seminar program for the university's senior faculty and staff. John also helped launch and teaches at the annual Wisconsin Entrepreneurial Bootcamp at the University of Wisconsin-Madison Business School.
John and Tashia are both graduates of Wauwatosa High School and the University of Wisconsin-Madison. He holds a master's degree in business administration from Stanford University.
Tashia F. Morgridge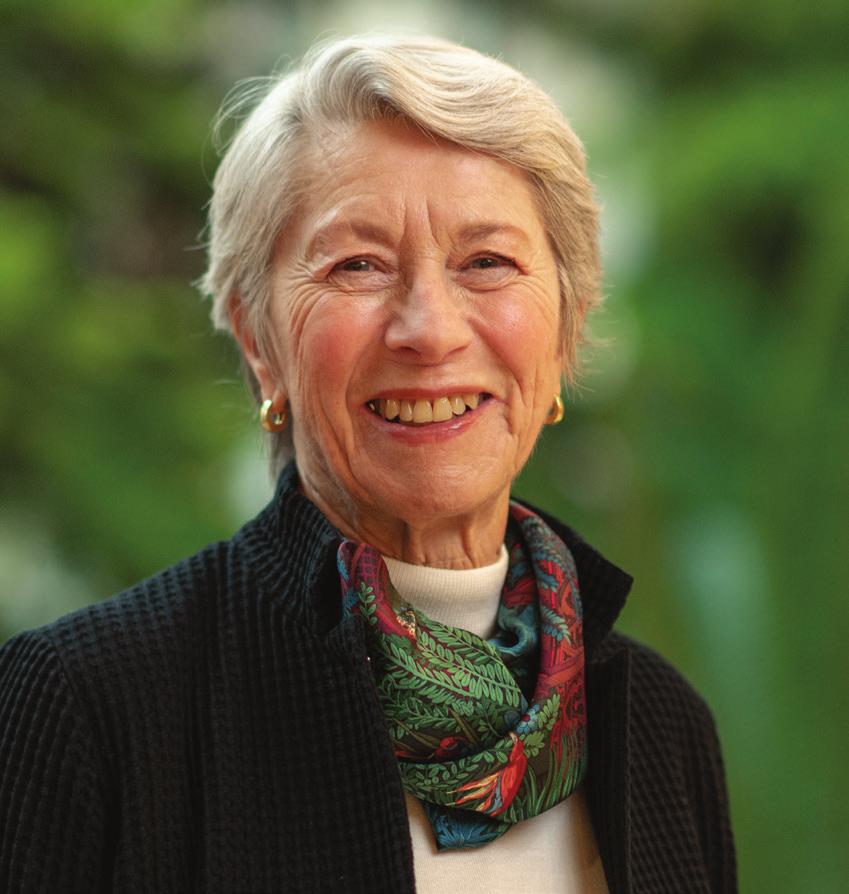 Tashia F. Morgridge is co-founder of the FFWS and serves on its Board of Directors. Tashia is an educator and author. After receiving her bachelor's degree from the University of Wisconsin-Madison and her master's degree from Lesley University in Massachusetts, Tashia has been a teacher and supporter of public education. She is author of the book Award-Winning Activities for All Curriculum Areas.
Tashia's volunteerism, philanthropy and board service have focused on children and young adults. She is former chair of the Board of Directors of the Haas Center for Public Service at Stanford University, an ex-officio member of the Board of the Morgridge Center for Public Service in Wisconsin, a member of the Board of Visitors for the UW-Madison School of Education and a member of the University of Wisconsin-Madison Chancellor's Advisory Board. She is the current president of the TOSA Foundation.
Tashia and John have been married for over 63 years. They had three children and have six grandchildren and one great-grandchild. Committed to family and recreation, the couple ran a summer camp each summer for their grandchildren. Tashia is the author of Cousins' Camp, a story based on the summer camp. John and Tashia also have bicycled across the U.S., climbed Mt. Kilimanjaro and cross-country skied above the Arctic Circle.
John D. Morgridge
In 2008, John D. Morgridge with his wife Carrie founded the Morgridge Family Foundation, and John serves as President During that time, the Foundation has made incredible impact by investing in leaders and organizations that are reimagining solutions to some of today's greatest challenges.
Over the years, John led MFF through the implementation of innovative partnerships with major organizations such as the Morgridge Academy at National Jewish Health, the Morgridge Center for Community Change at the Mile High United Way, the Morgridge Fellow in Poverty Studies at the American Enterprise Institute, to name just a few. Annually the Foundation discovers, builds and funds over 185 projects.
More recently, MFF partnered with MIT Solve on initiatives elevating solutions for workforce development in the US and supporting student-led technology innovations and ideas. Continuing MFF's commitment to disruption and transformation, the Foundation partnered with sparks&honey, a cultural consultancy, to create a report called The Future of Giving. The first of its kind for the philanthropic sector, it details five major cultural shifts that will guide and impact giving today and well into the future.
John and his wife Carrie have been recognized numerous times for their philanthropic impact and dedication to public service. They received National Jewish Health's highest honor, the Arthur B. Lorber Award for Distinguished Service, an award bestowed only 23 times in the 118 year history of the Institution. From the University of Denver, they received the Josef Korbel School Humanitarian Award, which recognizes a couple for distinction in giving concrete expression to the values underlying the universal declaration of human rights through philanthropy. Similarly, they received the "Every Gift Matters" award from the Colorado Distant Learning Association, for their work providing access to technology in rural Colorado. John is a co-founder and serves on the Board of mindSpark Learning, an organization focused on empowering educators to tackle the most challenging conditions in their schools through Design Thinking and other strategies. Ensuring their work will have a lasting impact well into the future, John and Carrie founded the Student Support Foundation, a national organization that cultivates high school and college philanthropists by helping them to understand the importance of giving through hands-on learning.
John and Carrie currently split their time between Montana, Colorado and Florida, where they enjoy time with family and athletic pursuits. John has completed seven Ironman competitions to date. In 2016, he and Carrie biked across the country on the Great Divide Mountain Bike Route covering 2,774 miles from Canada to Mexico in 46 days. As new grandparents, John and Carrie especially enjoy visiting their two adult children and their families.
John W. Daniels, Jr.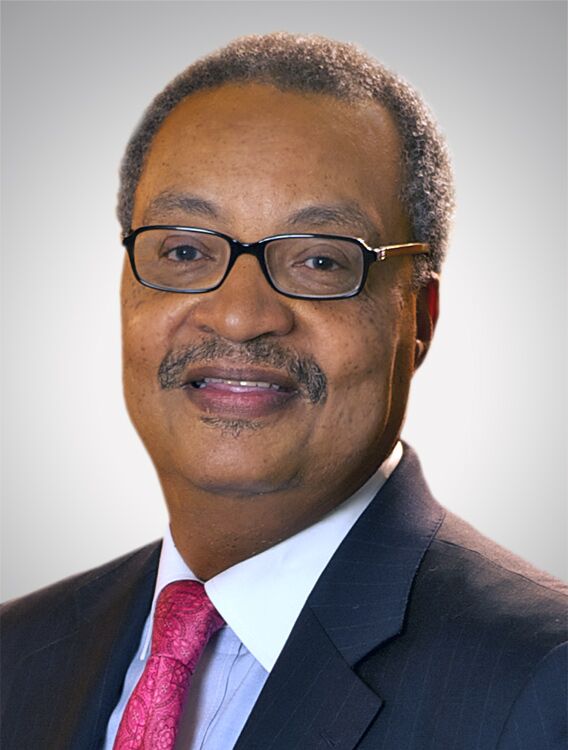 John W. Daniels Jr. served on the Board of Directors.  John is not only a national real estate and business expert with an enviable client list of national corporate household names, he is chairman emeritus of Quarles & Brady, a strategic business advisor to many of the firm's largest clients, a recurrently honored champion of diversity and inclusion, a much sought-after thought leader on multiple topics, a widely recognized pillar of the community, an active agent of organizational and civic change, and a crusader for high-quality education and access to it. He grew the firm impressively during the worst economy since the Great Depression, expanding its ranks of attorneys and adding new locations and national practice specialties in spite of the downturn, fundamentally transforming Quarles from its traditional legal industry structure to a model of a 21st-century professional services business.
Formerly the national president of the American College of Real Estate Lawyers, John has established a remarkable career in the practice of real estate law, representing national, regional, local, and governmental owners and investors, and playing a significant role in some of the most complex real estate redevelopment projects in the United States. For his legal accomplishments, he has been called one of "the 50 most influential diverse attorneys in America" by the National Bar Association and one of "100 Managing Partners You Need to Know" by Lawdragon, among myriad other acknowledgements of his leadership and influence. He has been honored not only for his legal leadership but for his entrepreneurialism, his spirit of excellence in the pursuit of racial justice, and his devotion to education.
John's personal motto, which has become a core firm value, is, "Everybody counts, every day," and that philosophy invigorates everything with which he is involved. He is driven by a powerful sense of fairness, and he believes there are few problems that cannot be solved through objective, reasoned persistence, pursued in good faith. He's an imaginative problem solver, a uniquely critical thinker, a voice of wisdom and long experience, a connector of power players, and a fully tested leader. Depend on him to make big things happen.
Kelly Ruppel

Kelly Ruppel is the executive director and Board Director for FFWS. Kelly brings nearly 20 years of operations, finance, and strategic leadership experience in education and nonprofit organizations.  As a community leader, she has led successful implementation efforts to close access and opportunity gaps through strategic planning, investing for social outcomes, and listening to students and families. She is joining FFWS from Ronald McDonald House Charities of Southeastern Wisconsin, where she served as executive director. Prior to that, she was the chief financial officer and chief of staff to the Superintendent of the Madison Metropolitan School District (MMSD). She also worked at the Civic Consulting Alliance, managing projects between Chicago Public Schools and the Chicago City Colleges aiming to improve access to and graduation from the City College system.
Kelly brings a finance and accounting background to FFWS, having completed her MBA from the University of Chicago Booth School of Business. She implemented large-scale change efforts at MMSD and managed numerous nonprofit and government organizational efforts at PricewaterhouseCoopers."The mission of the Fund For Wisconsin Scholars speaks directly to the long-term economic success of this great state of Wisconsin through investment in the educational advancement of students," said Kelly Ruppel. "Wisconsin's successful high school students should have unhindered access to our premier UW System. No qualified student should ever have to choose between investing in their future and balancing the financial burden of attending the university today. I have seen the systemic barriers our students face every day and the lack of resources available for them to thrive. Together, we have the opportunity to impact students' lives and work to increase access and opportunity."
Kelly is a proud Wisconsin native and Wisconsin public school graduate. She currently lives in Madison with her husband and three young children. Kelly's mom was the first woman in her family to attend college and had to stop out to support her family when her father had a health crisis. Kelly's hope is that FFWS can provide research-based support for low-income students to close generational poverty cycles and improve the overall economic condition of the state of Wisconsin.
Mary W. Gulbrandsen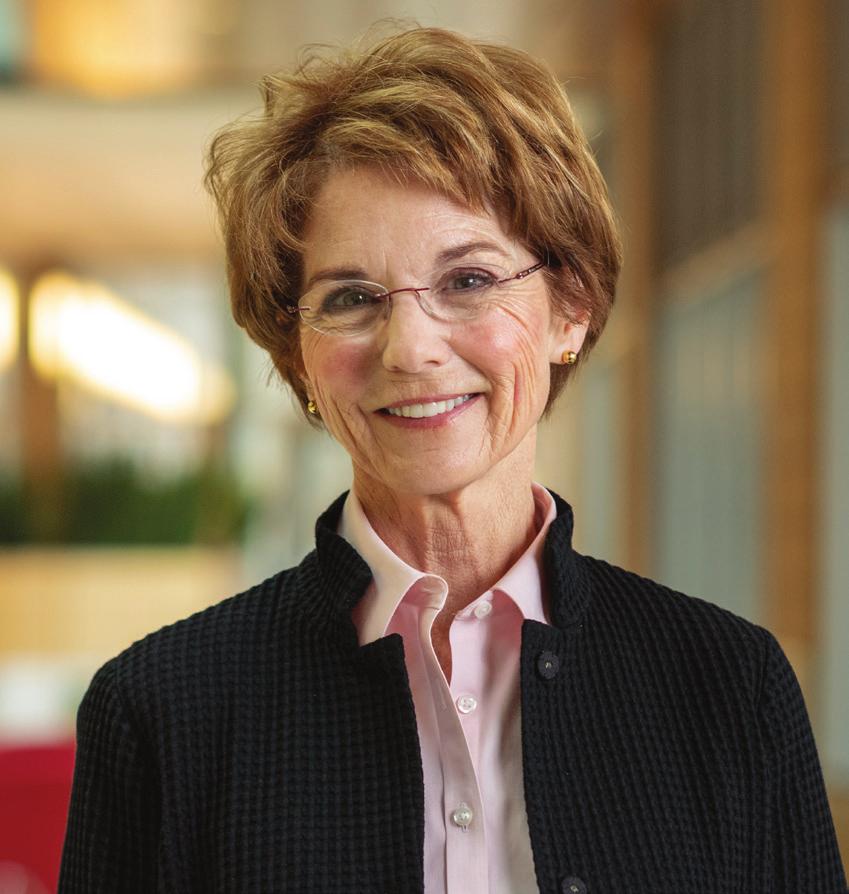 Mary W. Gulbrandsen is a founding Board Director and the first executive director of the FFWS. Now retired, Mary continues to provide strategic advisory services to FFWS. As a pediatric nurse practitioner and former school district administrator, Mary has dedicated her career to supporting children by combining her interests and expertise in medicine and education. She is recognized for her commitment to ensuring health care and quality education for all children, and her ability to find funding for those services. She writes and speaks about this work.
A passionate supporter of public education, Mary joined the Madison Metropolitan School District over 30 years ago to implement and run the program that placed health-services staff in all Madison public schools. Mary went on to serve in a variety of leadership roles in the school district, including as chief of staff, where she worked on long-range planning, finance and operations and programs designed to improve student achievement. She retired in June 2007 as Chief of Staff and Executive Director of Student Services for the district.
Mary holds a bachelor's degree in nursing from St. Olaf College in Minnesota and two masters degrees, in pediatric nursing and in administrative medicine, from the University of Wisconsin-Madison.
Mary also devotes substantial time to volunteerism and board service. She is currently a member of the Oscar Rennebohm Foundation board and several University of Wisconsin committees and boards. She is married to Carl Gulbrandsen, and together they have three children and seven grandchildren.
"It is truly a joy to meet the FFWS recipients, hear their stories, observe their joy for learning, and to know that the future of our State and Country are in their wonderful, capable hands."
Chris Bradford

Chris Bradford serves on the Board of Directors of the FFWS. Chris has spent his career building organizations that create opportunities for young people. He currently serves as the President of the Morehead-Cain Foundation, which provides scholarships to students attending the University of North Carolina at Chapel Hill. He previously spent sixteen years in South Africa, where he was co-founder and CEO of African Leadership Academy, a pan-African secondary institution in Johannesburg, South Africa that identifies and develops promising young leaders from all backgrounds across the African continent. While at ALA, Chris supported the development of the Mastercard Foundation Scholars Program, which ensures that promising students from disadvantaged communities can access university opportunities across Africa and around the world. He hopes to bring lessons from these different contexts to FFWS in service of young people across the state of Wisconsin.
Chris resides in North Carolina with his family. He has a bachelor's degree from Yale University and master's degrees in Education and Business Administration from Stanford University.
Katy Heyning

Katy Heyning is a member of the Board of Directors of the FFWS. She has spent her career in public education including most recently serving as Provost and Vice President for Academic Affairs at SUNY Brockport, the second largest public, regional comprehensive university in the State University of New York System. Highlights of her tenure included work to implement a new pipeline to the professorate for underrepresented minority and women in STEM fields through the creation of the SUNY PRODiG Fellows Program.
Prior to becoming Provost, Katy was at the University of Wisconsin-Whitewater for nineteen years, earning progressive leadership roles as Professor, Department Chair, Associate Dean and Dean of the College of Education and Professional Studies. During her tenure as dean, she created Whitewater Leads, Inc., a non-profit community organization to support and sustain early literacy in the Whitewater community. She has also served as President of the Teacher Education Council of State Colleges and Universities, the Wisconsin Association of Colleges of Teacher Education, and was Chair of the Task Force on Teacher Education for the American Association of State Colleges and Universities.
Katy received her PhD from the University of Wisconsin-Madison in Curriculum and Instruction. Her research has focused on education policy, higher education reform and change, the university/state nexus throughout history and the application of postmodern theory to teacher education reform.
Michael Lovell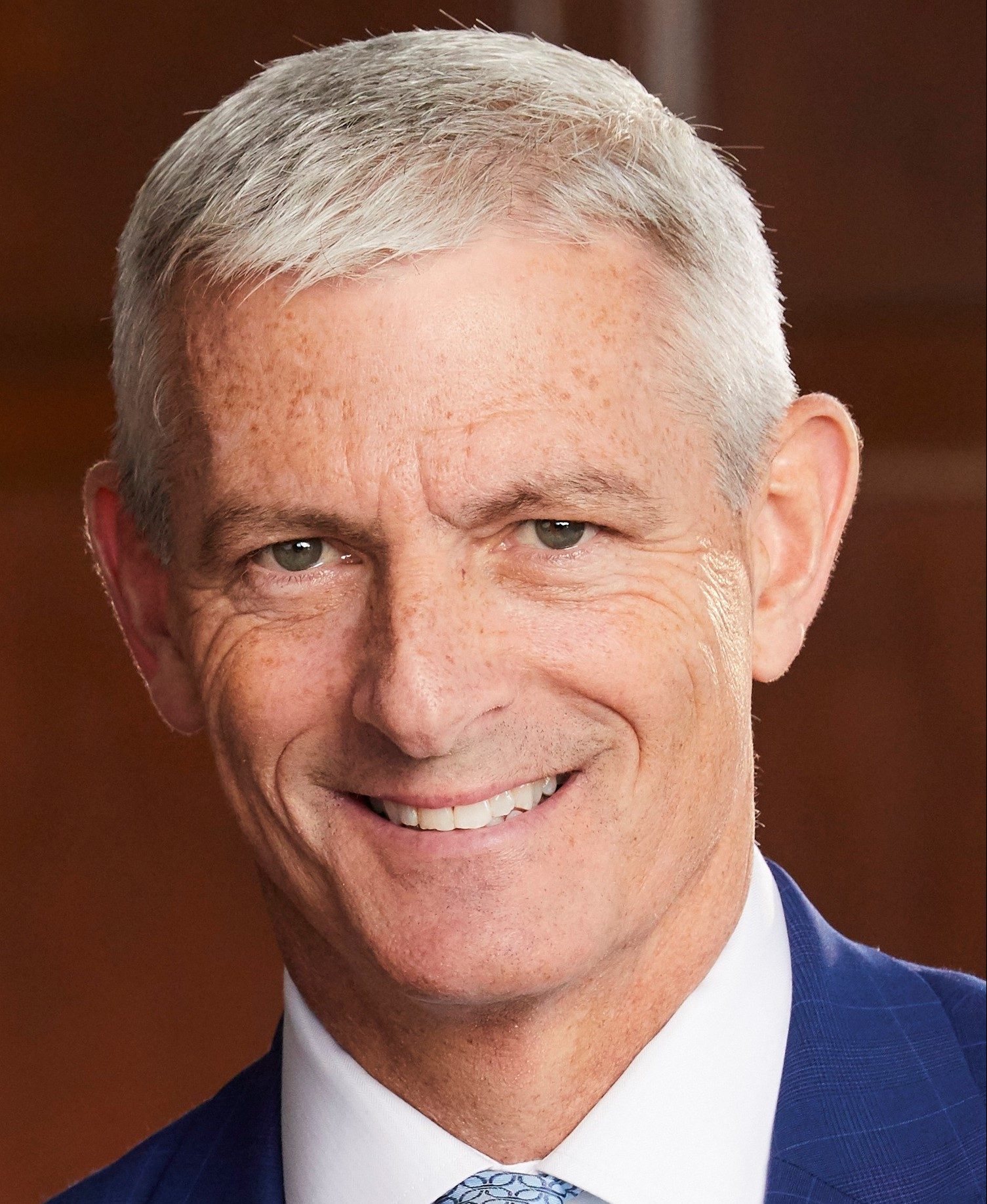 Michael R. Lovell serves on the FFWS Board of Directors. Since the 1990s, Mike has been educating young people through his work at major U.S. universities. He became president of Marquette University in Milwaukee in 2014 and previously was an academic leader and faculty member at the University of Wisconsin-Milwaukee, University of Pittsburgh and University of Kentucky.
Under his guidance, Marquette focuses on innovation, entrepreneurship, and community renewal and development — all consistent with the university's Catholic, Jesuit mission. Working with business and community leaders in Marquette's neighborhood, Mike helped create the Near West Side Partners, a nonprofit focused on strengthening economic development, housing, neighborhood identity and safety. He and his wife, Amy, have formed Scaling Wellness in Milwaukee (SWIM), a community-wide effort addressing impacts of generational trauma.
Mike serves as co-chair of the Greater Milwaukee Foundation's Milwaukee Succeeds initiative, Innovation in Milwaukee and the Council on Competitiveness University Leadership Forum. The boards on which he serves include the Association of Jesuit Colleges and Universities, Big East Conference, Children's Hospital of Wisconsin and Milwaukee Film. He serves on executive committees of the Greater Milwaukee Committee, The Water Council and the Wisconsin Association of Independent Colleges and Universities.
Mike holds three mechanical engineering degrees including a doctorate from the University of Pittsburgh. He has received awards from the National Science Foundation, Society of Manufacturing Engineers and numerous other organizations; is a fellow of the American Society of Mechanical Engineers and National Academy of Inventors; and holds U.S. and world patents.
Becky Splitt

Becky Splitt serves on the Board of Directors. Becky served as the first CEO of StudyBlue, a mobile, social study platform that helps students help each other learn. Over 13m of them to date have done so, and in the process amassed the world's largest library of student generated study material. Becky moved into the role of Executive Chairman in August 2014.
Prior to her work with StudyBlue, Becky served as the Director of MSN International at Microsoft where she was responsible for setting strategy, managing the P&L and expanding the business from six to 27 countries.
Becky's tech career started as a founding team member of Brite Voice Systems. The voice processing technology company went public seven years after incorporating. During that time Becky moved from the single product manager to Vice President of the companies managed services division.
Becky has steered some of the industry's giants into successful new business segments, and at the same time turned small players into industry leaders. Becky can speak to building and managing a global workforce at MSN, running a lean team accountable to both angel and institutional investors, while harnessing breakthrough growth at StudyBlue.
Annual Reports
Tax Documents